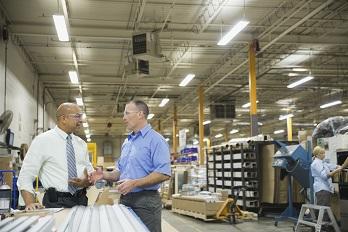 Protecting your employees
Some 4,600 companies have chosen CNP Assurances's insurance solutions to provide social protection for their employees, including death/disability, health and long-term care insurance as well as supplementary pension benefits.
Our goal is to offer social protection at the best possible price, with a high level of associated services, particularly for the prevention of health risks. We strongly believe in managing the contract in partnership with you to ensure the contract's financial viability and the sustainability of your employee benefits programme.
With the decline in healthy life expectancy in France, occupational health is a major issue for companies, to guarantee the continuing employability of older members of staff as the retirement age is pushed back further and further.
CNP Assurances offers you the solutions best suited to your situation. Whatever the size of your company, from international groups to micro-enterprises, you will benefit from our innovations and the same quality of service.
Service engineering for prevention
Supporting employees' well-being at work also reduces risks for the employer. We fully understand the win-win situation created by designing employee benefit solutions that include real support for employees in the areas of prevention, healthcare advice, work/life balance, and help for carers, all of which help reduce absenteeism rates.
With our service and health information platforms and our personal services network, we can help you define the most suitable benefit and welfare programs for your employees.
Our death/disability and health insurance offer
With CNP Assurances, you benefit from the experience of a company that is a member of the Caisse des Dépôts group and has €330 billion of assets (including unit-linked portfolios). Asset portfolios are managed in line with your strategic choices and the type of system you choose to put in place.
In managing our contracts, the focus is naturally on service quality and also on transparency, with regular management reports, security, and performance, through strict management of investments.
We offer companies a comprehensive range:
Long-term care insurance providing an allowance and services in the event of the loss of autonomy.
Medical costs insurance covering the reimbursement of healthcare costs.
Temporary or permanent disability insurance to compensate for an employee's loss of revenue in certain situations.
Term life insurance, which provides a lump sum to beneficiaries, an annuity to the surviving spouse and an education allowance for children.
We can work with you in setting up a benefits programme pursuant to agreement with employee representatives, a poll of all employees or a management decision.
We will develop a bespoke solution for you, with compulsory or optional cover, flexible contributions, coverage extended to families or not, etc. and a level of service that sets us apart from the competition.
Our services for human resources departments include teaching tools for the organization of internal communication and health campaigns, lost-time accident monitoring, health alert indicators, reports and psychosocial risk assessments.
Services for employees include health information, assistance, medico-social support and guidance on preventing health risks.
These services are provided by CNP Assurances, its subsidiary Filassistance and its selected service providers.
Our pensions offer
We can offer you a pension plan based on your company's financial and demographic data and the level of benefits you want to pay. Our services include a needs assessment, actuarial analyses, legal and tax advice. We will take care of setting up the plan and monitoring the financial aspects. Whether you want to build employee loyalty by offering an "article 39" tax-advantaged defined benefit plan or to offer deferred compensation to all or some of your employees through an "article 83" tax-advantaged defined contribution plan, we are here to help you.
We have the scale and sustainability needed to manage long-term products like pension plans. We can help you set up a plan pursuant to an agreement with employee representatives, a poll of all employees or a management decision.
We also stand out from competitors because of the services we offer, such as teaching tools to help HR departments and the preparation of estimates of future retirement income for employees. These services are offered directly, through our subsidiaries (Filassistance, for example), or through selected service providers.
Large corporates or micro-enterprises and SMEs
Depending on the size of your company, we will work with you to create suitable products. For large corporates, we develop bespoke contracts with customized asset management.
For micro-enterprises and SMEs, we offer customizable contracts that include support services for employees.