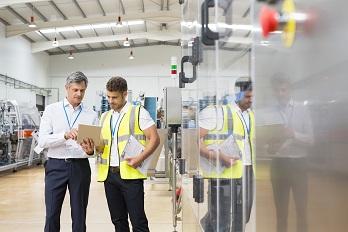 Responsible investing
CNP Assurances's primary financial responsibility is to secure the commitments made to policyholders and guarantee a steady, optimized performance year after year.
In line with the belief that including socially responsible investment criteria in the investment selection process optimizes the yield-to-risk ratio over the long term, ESG screens have been applied to the majority of CNP Assurances's assets and those of its French subsidiaries (80% at end-2017) over the last few years. CNP Assurances wants to use its investments as a driver for positive change in the economy.
80% of CNP Assurances financial assets managed according to ESG criteria
CNP Assurances is an insurance company. As such, it does not manage assets for others and entrusts the management of its own assets to specialists. The responsible investor approach is defined and led by CNP Assurances, drawing on the extra-financial expertise of the asset management companies. This commitment was strengthened in 2011 when CNP Assurances signed on to the Principles for Responsible Investment ( PRI), as well as in 2015 when it signed on to the Montréal Carbon Pledge. On 31 December 2017, the ESG filter covered 80% of the financial assets of CNP Assurances and its French subsidiaries.
CNP Assurances' responsible investing is reflected by progressively taking into account environmental, social and governance (ESG) criteria for the whole portfolio over the different unit-linked investments:
■ Listed equities: The approach is based on best-in-class management. Quarterly monitoring allows Natixis AM's and LBPAM's extra-financial analysts to exchange ideas concerning high-risk securities and current challenges. Dialogue is initiated with the owned companies in the event of ESG problems. When dialogue fails to produce results, other actions can be taken. These might include suspending purchases of the company's securities or even selling/excluding the existing portfolio.
Responsible investing in listed unit-linked investments supports ecological and energy transition, in particular via the development since 2014 by our management company SRI analysts of a risk and carbon opportunity approach. As of 2008, CNP Assurances excluded manufacturers of cluster bombs and antipersonnel mines from its listed equities. Since 2015, it has excluded all coal mining and coal-based energy producing companies whose turnover is more than 15% derived from thermal coal.
■ Government bonds and equivalents: Exclusion of tax havens and non-democratic countries with a low freedom rating according to the Freedom House index, or which are deemed corrupt by Transparency International.
■ Corporate bonds: Quarterly ESG portfolio scores, exclusion or limitation of the investment world based on the Global Compact's principles. In 2008, CNP Assurances excluded from its bond investment world cluster bomb and antipersonnel mine manufacturers. Since 2015, it has also excluded all coal mining and coal-based energy producing companies whose turnover is more than 15% derived from thermal coal.
■ Mutual funds: The procedure is based on the selection of management companies (taking their ESG commitment into account) and the definition of general investment principles: players who speculate on agricultural raw materials and manufacturers of cluster bomb and anti-personnel mines are excluded. Furthermore, dedicated mutual funds that do not comply with the Global Compact principles and the carbon footprint issue defined in accordance with the procedure on bonds have also been excluded since 2015.
The issue of sensitive countries is also monitored: an investigation into tax havens and embargoes was conducted in 2015. Findings from this investigation are included in the due diligence questionnaire, which prompted the exclusion of new dedicated mutual funds.
Furthermore, CNP Assurances invested €2.5 billion in SRI mutual funds, or 7% of the amounts outstanding for all non-dedicated mutual funds held at end-2017.
■ The Caixa Seguradora Group makes industry exclusions based on its investments in government and corporate bonds, as well as exclusions in shares. CNP Seguros de Vida prioritises between investments with equal risks and returns, selecting the one with the better social and/or environmental profile. At the end of 2016, 16% of assets were dedicated to supporting SMEs and social infrastructures. In 2015, CNP UniCredit Vita implemented exclusion rules defined by CNP Assurances for sensitive securities and countries in its Euro portfolio, or 46 % of its financial assets at the end of 2016 in line with MFPrévoyance.
Energy and environmental transition
CNP Assurances obtained a share in private equity funds in the eco-energy/eco-industry/cleantech sector amounting to €35 million at the end of 2017. Direct and indirect investments in renewable energy infrastructures, sustainable mobility and water and waste treatment represented a total of €1 041 million at the end of 2017. In addition to these funds, €1 362 million was invested directly in bonds linked to specific environmental projects (green bonds).
At the end of 2015, together with the management company Meridiam, CNP Assurances launched an infrastructure fund "Meridiam Transition" in order to finance innovative development projects involving energy transition, local services such as heat networks and waste-to-energy processing, electricity and gas networks and innovative renewable energies: €100 million was invested at the end of 2015 followed by a further €49 million in 2016.
Thanks to developments within the framework of its low carbon strategy, CNP Assurances reached its target of tripling outstanding amounts for the benefit of TEE between 2014 and 2017.
CNP Assurances received a special mention from the jury at the awards for first prize in the international competition for the best investors climate report in October 2016.
Withdrawal from the coal sector
CNP Assurances has transferred bonds in coal mining and coal-based energy producing companies worth around €300 million since 2015. At the end of 2015, it no longer held any direct position in the listed shares and bonds of companies, for whom more than 25% of their turnover is derived from thermal coal.
Financial portfolio's carbon footprint
In line with its commitment under the Montreal Carbon Pledge in May 2015, CNP Assurances publishes and measures the carbon footprint of its financial portfolio.
Portfolio of directly held listed equities
At 31 December 2017, the footprint is estimated at 0.30 tonnes of CO2 equivalent per thousand euros invested. In 2015, CNP Assurances set itself the goal of reducing the end‑2014 level by 20% by 2020, revising the target reduction to 30% by 2021* in 2017 (twice the pace implied by the commitments under the French National Low Carbon Strategy), notably through dialogue with the companies whose shares it holds. While this indicator is useful for tracking the reduction in the portfolio's carbon footprint, it is flawed by the fact that it does not necessarily reflect positive action taken by companies to further the energy transition. CNP Assurances therefore supports methodological developments in measuring companies' carbon impact and their impact in respect of the environmental and energy transition, including those related to avoided emissions.
N.B. This calculation is an estimate of Scope 1 and 2 greenhouse gas emissions by portfolio companies at the end of 2016 (most recent published data) without adjustment for overlap, based on the portfolio's asset value. These estimates are volatile, and depend notably on the scope and data collection methods used in the various companies and changes in reference emission factors. As such, while the 2017 results are very encouraging, CNP Assurances remains vigilant and is pursuing its carbon reduction efforts.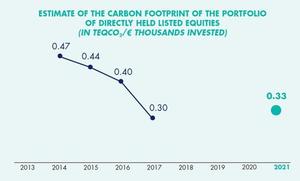 Portfolio of directly held listed corporate assets
Continuing its commitment to the Montreal Carbon Pledge, CNP Assurances began regularly calculating the carbon footprint of its corporate assets in 2016, estimating the share held directly in equities and bonds in proportion to the balance sheets of the respective companies. Greenhouse gas emissions are estimated taking solely into account disclosures of portfolio companies in respect of their Scope 1 and 2 emissions, without adjusting for overlap. As a large number of companies do not provide this data, the estimate covers 60% of the portfolio. It amounted to 0.11 tonnes of CO2 equivalent per thousand euros invested at 31 December 2017.