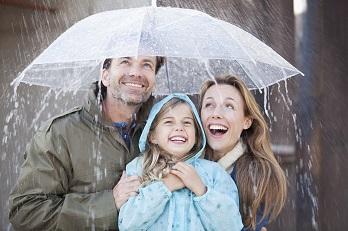 Your need: protection for you and your loved ones
You heard about personal risk insurance and don't really know what is it for ?
You have children for a few time and wonder about your family's standard of living in the event of death or disability ?
You are a handyman and wonder who pays for the financial consequences if you fall painting your garage ?
Look at our solutions !
Helping to maintain your family's standard of living in the event of death or disability
household budgets are not elastic and bills can rapidly mount up in the event of a temporary loss of revenue. The situation can be even worse in the event of disability or death.
By purchasing a CNP Assurances death/disability policy, you have the assurance that your beneficiaries will receive a payment in the event of your death or that you will receive a payment if you become disabled.
In line with our commitment to insuring all our futures, we offer two types of guarantee (term life insurance or whole life insurance) and numerous options (such as an emergency payment, or double or triple the basic benefit in the case of accidental death or disability) to enable you to adapt the policy to your specific needs and wishes.
Good to know: our lives are constantly changing and you should pay close attention to your choice of beneficiary(ies) and insured amount: these are the core provisions of your policy and should be reviewed regularly to ensure that they are still aligned with your wishes.
Protecting against the consequences of the accidents of everyday life
What happens if you're the victim of a domestic accident? Who pays for the financial consequences if you fall from a tree when pruning it? How can you keep on paying your rent if you become disabled or lose your job? How can you be sure of having good health insurance cover if you fall it?
It's our job as an insurance company to anticipate our policyholders' needs. For the unforeseen events of everyday life, we have developed a series of policies that will meet your needs at every stage in your life.
For example, with our accident insurance policies, all of your needs can be met following a domestic accident, such as housework, advice in adapting your home or payment of a lump sum benefit, depending on the level of cover purchased.
If you rent your home, our innovative renter's insurance solutions provide support if you lose your job, or become temporarily unfit for work due to an accident or illness, by covering your rent for the period specified in the policy (read the policy terms and conditions).