Why work for CNP Assurances?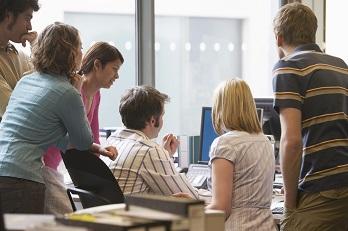 Our day-to-day mission is to support the Group's financial and socially responsible development alongside the management team, with the aim of helping employees and managers to express their talents effectively as part of a continuous improvement process.
Implementing a proactive corporate social responsibility strategy that reflects the Group's values.
For several years, CNP Assurances has taken an assertive approach to training employees through work-study programmes. Individuals are hired on continuing education or traineeship work-study contracts.
Each work-study employee is supported by the Work-Study Programme Officer and a personal tutor throughout the life of the employment contract.
CNP Assurances' proactive corporate social responsibility strategy focuses on combating discrimination and promoting equal opportunity, as well as preventing psychosocial and other risks. As a result of this commitment, the diversity Label for CNP Assurances was renewed for the 2nd time in 2016.
We are committed to integrating disabled employees and supporting them over the long term in every relevant aspect of the human resources process, from hiring, training and induction to sustainable employability enhancement and career progress monitoring.