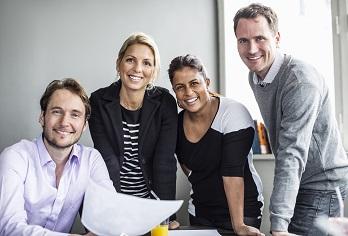 For an attractive enterprise
CNP Assurances's employees are its greatest asset. The Group helps them acquire or improve their skills in response to the increasingly high quality standards and growing technical complexity that are a feature of the insurance business, cultivates diversity and keeps a close watch on the quality of working life in France and in the international subsidiaries.
Promoting career advancement and skills enhancement
Because we place a priority on recruiting internally before looking for outside talent, and spend the equivalent of over 5% of payroll on training each year, all of CNP Assurances's employees have the opportunity to shape a career path that is consistent with their goals for advancement in the Group's core disciplines, whether in actuarial analysis, finance, sales, information systems or policy administration.
Operations in each of these areas rely on our teams' specialized expertise, which we are deeply committed to enhancing.
Every year, we offer employees the opportunity of attending training courses leading to a diploma so that they can achieve their professional ambitions in line with the Group's strategic objectives.
In addition, as a subsidiary of the Caisse des Dépôts et Consignations Group, we are able to give employees access to a vast network of job opportunities.
One of our key priorities is to strengthen the management skills of our team leaders at all levels of the organisation, whether they are experienced or novice managers. We support them through a variety of dedicated schemes such as leadership workshops, group training courses and individual monitoring programmes, particularly during their first 100 days on the job.
The mobility and training initiatives set up within the Group are led by internal instructors and tutors as well as specialised "point persons", who together provide ample opportunities for developing cross-functional skills and instilling shared values across the organisation.
Implementing a proactive corporate social responsibility strategy
CNP Assurances has been pursuing a corporate responsibility policy to fight discrimination and to promote equal opportunity, and to prevent risks, particularly psychosocial ones.
This policy has given rise to company agreements (professional gender equality, "generation contract" action plan, employment of persons with disabilities, trade union resources), which contain target figures and action plans.
And many actions such as the following have been carried out in recent years:
New recruitment methods based on skill assessment
Introduction of a reception and integration programme for new entrants
Overhaul of the annual assessment and performance appraisals and introduction of periodic career/professional interviews
Raising awareness about stereotypes and non-discrimination through e-learning for nearly 80% of employees
Training for nearly 80% of managers in "diversity management"
Creation of a "Psychosocial Risks" group and an internal social mediation system
Creation of a "Diversity" steering committee.
As a result of this commitment, the diversity Label for CNP Assurances was renewed for the 2nd time in 2016.